1. Install Aptoide Client in your device
(if it is not yet installed)
To install Applications from Aptoide you need to install Aptoide Client.
1.1 You can use one of the following ways:
- Download aptoide.apk and install it in your phone:
- Or scan this QR code with your Android device: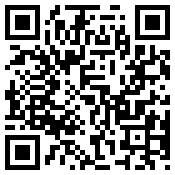 1.2 After the download is complete, go to the notification bar and press de application name (Aptoide.apk) to start installing Aptoide.
1.3 Click in "Install" button to finish Aptoide installation.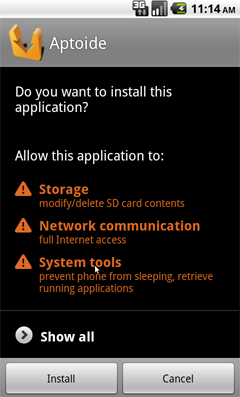 2. Browse through the applications and choose one to install
2.1 Access this application in Aptoide Mobile, by clicking here or scanning the QR Code below.
Monólogos de Leo Harlem
QR Code


Click the Install button!
Specifications:
Min SDK:
7
Min Screen:
Small
Permissions:
android.permission.WRITE_EXTERNAL_STORAGE
Allows an application to write to external storage.
android.permission.WAKE_LOCK
Allows using PowerManager WakeLocks to keep processor from sleeping or screen from dimming.
android.permission.ACCESS_WIFI_STATE
Allows applications to access information about Wi-Fi networks.
android.permission.INTERNET
Allows applications to open network sockets.
android.permission.ACCESS_NETWORK_STATE
Allows applications to access information about networks
Description:
TÍTULO: Monólogos de Leo Harlem

IDIOMA: Español

TIPO: Humor - Audio-Monólogos

Recopilación de monólogos de uno de los mejores comediantes de España.


Leonardo González Féliz (Matarrosa del Sil, León, 1962), más conocido como Leo Harlem, es un actor y humorista español.


Carrera


Leo Harlem empezó su carrera en El club de la comedia, del que quedó finalista en el Tercer Certamen de Monólogos (2002). Seguidamente fue comentarista de Radio Estadio. Durante el año 2007 subió vídeos al portal YouTube haciendo un personaje llamado El Bocas de Zaragoza, donde enseñaba la ciudad, y se hacía pasar por aficionado del Real Zaragoza.En el verano de 2009 y de 2010 prestó su imagen para la campaña de abonados del Real Valladolid, similar al vídeo que subió 2 años atrás del Zaragoza. Después trabajó en La hora de José Mota, de La 1; Cómicos, algo más que los mejores monólogos, y en El club del chiste de Antena 3.

En septiembre de 2010, Onda Cero confirmaba la vuelta de Leo Harlem al amplio elenco de comentaristas deportivos de Radio Estadio que dirige y presenta el periodista vallisoletano Javier Ares Rodríguez, por octava temporada consecutiva.


Participó el 16 de enero de 2011 en la nueva etapa de El club de la comedia, ahora en La Sexta, y desde el 14 de febrero de ese año participa en el programa Sé lo que hicisteis, de la misma cadena, en la sección de "El defensor del mayor". El jueves 28 de abril anuncia que deja el programa.


En el año 2011 fue elegido como Mantenedor de la trigésima novena edición del Festival Nacional de Exaltación del Botillo de El Bierzo que se celebra en la localidad leonesa de Bembibre. En el mismo año, también fue elegido como pregonero de las Fiestas de la Virgen de San Lorenzo de Valladolid.


--------------------------------


Totalmente válido para distintas plataformas moviles y adaptable a diferentes resoluciones. Compatible con todos los móviles y Tablets Android existentes.


Las imágenes o capturas, muestran un ejemplo de la visualización de la aplicación


Para no cargar la memoria de su dispositivo el audio se reproduce en streaming.


Si lo desea puede descargarse el audio a su dispositivo para reproducirlo más tarde.


Se recomienda conexión wifi.
0

users LIKE this Android application
0

users DON'T LIKE this Android application
Monólogos de Leo Harlem
1